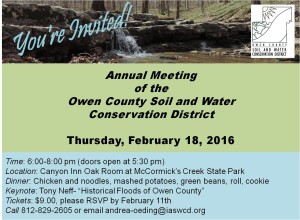 The Owen County Soil & Water Conservation District's 2016 Annual Meeting will be held on Thursday, February 18th at the Canyon Inn Oak Room at McCormick's Creek State Park.  All community members are invited to attend this event to celebrate conservation and learn about the SWCD's 2015 accomplishments.  This year's keynote speaker is County Historian Tony Neff discussing "Historical Floods of Owen County".  Additional short presentations will include updates from MYPath, Owen Valley FFA, and the Southern Indiana Cooperative Invasive Management group.
Doors will open at 5:30 pm and the meeting will begin at 6:00 pm. The dinner buffet includes delicious chicken and noodles, mashed potatoes, green beans, rolls, salad, and a cookie. Tickets will be sold in advance and will cost $9.00 to cover meal expenses. Please reserve your tickets by Friday, February 11th so that we can provide an accurate count to the Canyon Inn caterer. You can pick up and pay for your reserved tickets at the door.
The SWCD staff and board members wish to thank all who support this event and our conservation programs throughout the year. We are looking forward to celebrating with you! Contact Andrea Oeding to reserve your tickets or learn about becoming a sponsor by calling 812-829-2605 or visit the SWCD office located at 743 E Franklin St. Suite C in Spencer.