Construction has begun at the new trailhead at Cooper Commons. The existing gravel parking lot (shown below) will be reconfigured to improve traffic flow and organization of parking, it will include a new shelter house for gathering and viewing the White River, and new amenities such as a drinking fountain and bike loops.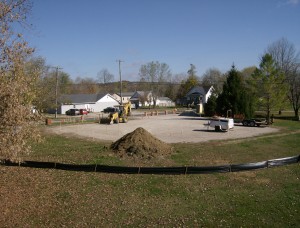 Improvements to the sidewalks are being made as well. A new sidewalk connection from the trailhead to the Veterans' Memorial Bridge is almost complete as well as a sidewalk extension going south from the bridge to the entrance to the Riverfront Trail.
The majority of the project should be complete by the end of 2016. Stay tuned for more progress!