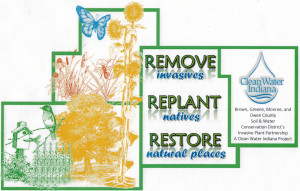 Clean Water Indiana Grant: Remove, Replant, Restore:
This grant will fund local landowner projects in Owen, Monroe, Greene, and Brown Counties which 1) remove invasive plants that pose a serious threat to the biodiversity of Indiana's forested and riparian ecosystems, 2) replant and restore the site with appropriate native species that accomplish the goals and objectives of each landowner.
Experienced SWCD staff collaborating  on the project will provide technical assistance to each interested landowner by writing a detailed Landowner Invasive Plant Assessment.
Application will be accepted year-round and will be ranked and approved by SWCD staff and their Board of Supervisors on a quarterly basis per each year of CWI funding (2017-2019).
Reimbursements will cover 75% of the landowner's receipts, not to exceed the NRCS per acre rates for Brush Management or Herbaceous Weed Control.
If you are interested in learning more about this grant or would like to find out if you qualify for cost-share funding, please call Andrea at the SWCD office in Spencer, 812-829-2605.